Pages
Favorite Quote
When I was a little girl I didn't want to be a princess I wanted to be a vampire
~Angelina Jolie~

About Me

Wednesday, April 20, 2011
Edit Post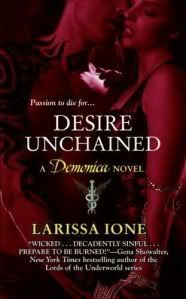 Well first of all I'v wanted to read this series for awhile, and now that I have started it,,,WOW!!! it is definately in my pile of FAV's....Ione,,,she knows how to light your fire...with passion, lust, yeah,,,ok neways.....besides,,,who wouldn't love A band of Hot Sexy Demons,,that are just trying to live there life like anyone else,,with the exception that ther seminus demons,,,which all they want to do is eat, sleep, and *BLEEP*,,,hmmmm? doesn't sound much different from human males in the real world.....Well lets try this review thing....again....
Desire unchained is the 2nd book in the "Demonica Series" by Larissa Ione who focuses on Shade- who is like his brother Eidolon, that we read about in Pleasure Unbound...
1. Seminus Demon
2. About to go thru S'genesis (final maturation cycle for Seminus demons)and when that happens NO!female human or demon will be safe.
The only way to keep a seminus demon from becoming an uncontrolable sex maniac impregnating anything female,,with his demon seed, he must find that one female to bond with...
"ENTER RUNA WAGNER"
Runa Wagner was nothing more that this shy timid girl that never took a chance running a quaint little coffee shot, until Tall, Dark and Sexy walked in...(drip,,,drip)
Shade the demon ass that he is had Runa falling in love with there every encounter,,,Where it might have just been,,,a booty call for him,,,It was so much more to Runa,,,and Shade,,,the demon ass that he is broke her heart. (Why do men have to be so cruel? even if they are a demon)Just like any love struck "female" she wanted to surprize her man...and it was a surprize all right,,,just not one she had expected...OMG! Shade laying on the bed with 2 other females,,,,,,and the only thing he could say was "Join Us",,,,but wait there was also something different his eyes? HOLY SHIT! Not only was he cheating on her but he wasn't human. (I guess Shade forgot to mention that little tidbit)
"Hi Im Shade a Seminus Demon who wants to or actually kind of has to have sex all the time, whould you like to go out?"
Well I guess that wouldnt be a very good pick up line....
Well now a year has gone by and she's back except not in a way she exactly had planned....
In a dungeon chained with this Demon Ass who broke her heart....
Shade's confussion as to why they have taken captive, not so much with him as to why Runa,,She's human,,,,Oh yeah,,,The night Runa left running crying, all heartbroken,,,she was attacked and left for dead,,,but she did't die,,she is just left to a fate that she endures 3 nights a month.
Well while being held captive in a dungeon with only one other person..What do you think would happen?
Yeah Runa just thought she was over that Demon Ass! and Shade ,,,well this new and improved Runa is bring out his Semi Side (lol get it Semi side) more than before....And with alittle demon trickery...by there warden...(and you will never believe who that is,,,,yeah didnt see that one coming..) Shade bonds himself to Runa and has made her his mate but it's only 1 sided,,,,,sheesh that must suck!
LOL kind of gives a new meaning to "What comes around goes around" ...Karma,,can be a "Bitch" sometimes...
Now Shade,,,gone thru his change,,and mated,,,feeling desparate to hang on to Runa,,,has only one other problem,,,A curse casted on him years and years ago,,,that will destroy him if he ever falls in love....
Fighting there enemies and feelings for each other they over come some opsticals along the way,,,,
But....will Runa be Shade's destiny or his destroyer?
Full reading order for the "Demonica Series" by Larissa Ione

The 3rd book is Wraith's book the younges Seminus Demon brother with Vampire tendencies...Cant wait to read about him....
hehe...Desire Unchained ended with him going thru his Sgenesis change...but he is not a mated male,,,and at his famous last words...
"he plans to stay that way".....