Pages
Favorite Quote
When I was a little girl I didn't want to be a princess I wanted to be a vampire
~Angelina Jolie~

About Me

Tuesday, April 5, 2011
Edit Post
HOW I LIKE MY MEAT!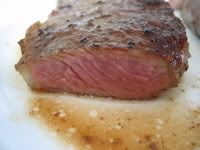 So every time I eat steak, my hubby just looks at me with a look of "YUCK"!
Why? Well I am a rare meat eater,,and when I say rare I mean seared on the outside and still red in the middle I talking blood red.
I guess that would be "YUCK" to someone who likes there meat cooked boot tough to nearly jerky.LOL
He make jokes about me and my vampire ways...I love him so much!
Well a few weeks ago we had to go deep in our relationship.(whats this have to do with steak?) Well let me tell you....We like different things, and when we had almost came to the conclusion that maybe we shouldn't be together because we didn't have anything in common to rebuild our relationship,,,it was a steak dinner almost left too rare for me and too over cooked for him..
But we realized,,,HEY! we both like the same sides bake potatos, corn, hot rolls, etc....So just because I like my meat 1 way and he likes his another,,,doesnt mean we don't have the other liitle things aournd that makes our relationship, A medium rare steak.