Pages
Favorite Quote
When I was a little girl I didn't want to be a princess I wanted to be a vampire
~Angelina Jolie~

About Me

Friday, April 8, 2011
Edit Post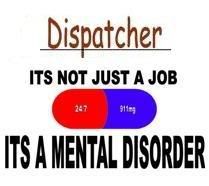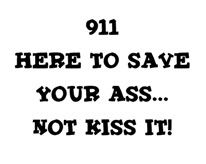 10.you belive in aerial spraying of Prozac and/or birth control over certain parts of your city.
9. your idea of a good night involves someone getting shot, chased or dismembered
8. You can carry on more than 4 conversations simultaneously.
7. you have a long term telephonic relationship with one or more paranoid, schizophrenic, PTSD suffering people in your jurisdiciton,.
6. you have forfotten what it's like to actually eat a warm meal.
5. you find humor in other people's misery.
4. You hear a fire engine or police car go screaming past your house and you wonder not what's happening but who's going.
3. You can resume a conversation with co-workers 4 hours later, in mid sentence, and everyone knows what you are talking about.
2. You have no idea what a holiday is, other than it's the day when everyone gets drunk and beats up their family memebers.
1. You truly believe that "Stupidity" should be painful..
(like Ron White says "You Can't Fix Stupid")
and just so you know Iv'e been a 911 Communications officer for 8 years now..