Pages
Favorite Quote
When I was a little girl I didn't want to be a princess I wanted to be a vampire
~Angelina Jolie~

About Me

Saturday, May 14, 2011
Edit Post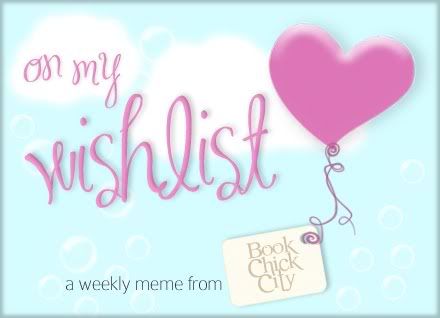 "On My Wishlist" is a fun weekly event hosted by
Book Chick City
and runs every Saturday. It's where you list all the books you desperately want but haven't actually bought yet. They can be old, new or forthcoming. It's also an event that you can join in with too - Mr Linky is always at the ready for you to link your own 'On My Wishlist' post. If you want to know more click
here
.
,,,,,My "Wish List" for this week is from Nina Bangs....
"The Castle of Dark Dreams Series"
#1.Wicked Nights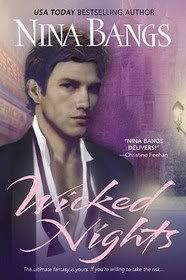 Welcome to the Castle of Dark Dreams. It's the yummiest attraction in Live the Fantasy, an adult theme park where women who dare can take sexy role-playing to new erotic heights. Just by looking at the castle you know that only dangerously tempting men would play here. Three brothers—Eric, Brynn, and Conall McNair—run the castle. Okay, so they're not quite human, but that's a secret. This night Eric, the castle's resident vampire, will prove that he's everything bad should be.
Talk-show host Donna Nolan is on the trail of the weird and wacky in the Castle of Dark Dreams. But thoughts of a juicy interview to enthrall her listeners disappear when she meets Eric. With the coldest blue eyes and the hottest mouth she's ever seen, he's a primitive call to the wild in every woman.
Love between a talk-show host and a vampire shouldn't be possible, but then, strange things happen in the Castle of Dark Dreams.

#2 Wicked Pleasure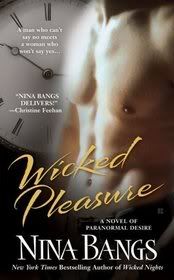 A MAN WHO CAN'T SAY NO
Brynn McNair has spent the last five hundred years of his existence offering his body to any woman who desires him. The evil entity that created him has made sure that if he tries to resist the compulsion to play love slave, he suffers. So it's no wonder that he thinks of women as his enemy. Until he meets Kimberly Vaughn.
A WOMAN WHO WON'T SAY YES
Kim Vaughn is a demon hunter. It's a family business and her destiny. But Kim is all about avoiding her destiny. She wants to marry an ordinary guy, have ordinary kids, live in an ordinary house, and work as an architect. No way does she want anything to do with a man who has paranormal connections. Until she meets Brynn McNair.
Kim comes to the Castle of Dark Dreams, the main attraction in a sexy theme park, to plan a few upgrades. She stays to join forces with Brynn and save Galveston from a supernatural takeover. Can a woman who wants to marry Mr. Ordinary and a man who thinks of love as sleeping with the enemy find happiness together? You'd be surprised.
#3 Wicked Fantasy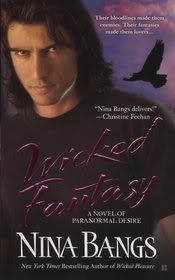 Conall O'Rourke learned the hard way that goddesses kick butt when you tick them off. After killing an Irish deity's favorite in battle, he's cursed to protect his enemy's descendants down to the last arrogant jerk. Now there's only one left, and Conall can almost taste freedom after endless centuries. But who knew the remaining descendant would be so beautiful, so sexy, and such a . . .
Vampire? Gerry Kavanagh hunts nonhuman entities that break Texas laws. But she finds more than the sneaky shape-shifting snake she's after at the Castle of Dark Dreams. The most hated member of the O'Rourkes expects to follow her around so he can "protect" her. Protect? She's a fanged creature of the night, for crying out loud. Nope. Never going to happen. Too bad he's a major wow on her personal sizzle meter.
#4 My Wicked Vampire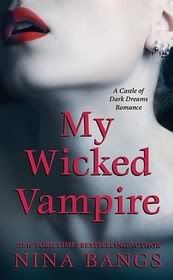 The Castle of Dark Dreams is just part of an adult theme park, right? The most decadent attraction in a place where people go to play out their wildest erotic fantasies. Holgarth isn't really a wacky wizard, and Sparkle Stardust doesn't actually create cosmic chaos by hooking up completely mismatched couples. And that naked guy chained up in the dungeon? No way he's a vampire.
Wrong...dead wrong, as botanist Cinn Airmid is about to find out. It's up to her to save the night feeder's sanity, but to do that she'll have to get close to the most dangerously sexy male she's ever encountered. And one look in Dacian's haunted black eyes tells her close will take on a whole new meaning with someone who's had 600 years to practice his technique. Even a girl with a name that conjures up images of forbidden pleasure has a few tricks to learn from…