Pages
Favorite Quote
When I was a little girl I didn't want to be a princess I wanted to be a vampire
~Angelina Jolie~

About Me

Saturday, June 11, 2011
Edit Post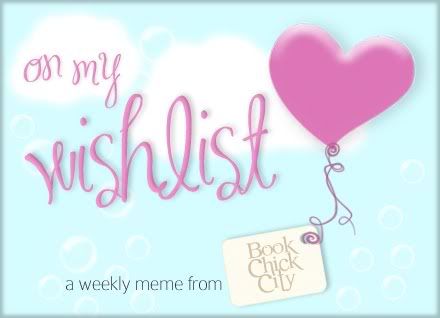 On My Wishlist is a fun weekly event hosted by
Book Chick City
and runs every Saturday. It's where I list all the books I desperately want but haven't actually bought yet. They can be old, new or forthcoming. It's also an event that you can join in with too - Mr Linky is always at the ready for you to link your own 'On My Wishlist' post. If you want to know more click
here
This week I have chosen a series that I found about over a year ago....
The Dark Realm Series
by Delilah Devlin..
Book 1:Into the Darkness
"Ms Devlin has created a suspenseful masterpiece against the back drop of the impending Hurricane Katrina. Her characters are passionately and elegantly written and the plot is full of twists that keep you turning the page."
Natalie Lambert's life has changed in the space of weeks — and she has no idea why. Her parents were murdered, she has her first taste of sexual desire — and she feels out of control, afraid, desperate to understand her changing world. She flees to New Orleans , hoping to lure the murderer out of the dark and bring to an end the trail of dead loved ones. Instead, she's attacked by crazed birds, swarmed by locusts, and saved by a Cajun cop who awakens all her latent desires.
When Rene Broussard rescues a virgin vampire, he ends up in her bed and becomes hers for life in one lusty bite. Rene awakens the vampire within Natalie, and she awakes the passion within him. Together, they fight the evil threatening to destroy The Born vampires amidst the horror of Hurricane Katrina while they discover a treasure of love they can share for all eternity.
Book 2:Seduced by Darkness
"…The electrifying follow-up to INTO THE DARKNESS is a breathless read. Devlin's intricate vampire society is filled with compelling personalities. The chemistry between the characters is explosive, and the horrific villain will give you goosebumps…the ending will leave you begging for more."
For eight hundred years Nicolas Montfaucon has dedicated his life to preventing the rebirth of an immortal evil. But now a terrible storm has assaulted unsuspecting New Orleans—and the beast walks the earth once more. "The Devourer" has been awakened, and there is only one in the besieged city who can help Nicolas defeat the foul creature—a mysterious and beautiful enigma who haunts the handsome Revenant's erotic waking dreams and enflames his passionate obsessions.
Chessa Tomas is not an ordinary policewoman. A vampire, she works only at night, patrolling a seamy and unseen underworld of roiling chaos. Though Nicolas is sensuality incarnate, Chessa wants no part of him or his kind—but she cannot close her eyes to the unholy malevolence that would consume their world. And Nicolas has uncovered the secret lust that rules her—a steaming, uncontrollable desire he intends to unleash, bending Chessa to his will by making her most forbidden fantasies real.
Book 3: Darkness Burning
"…Ploys, palace intrigues, backstabbing and betrayal, shifting allegiances and true friendship, and above all, abiding love, are what make Delilah Devlin's dark romances so irresistible. Do not expect a formulaic and predictable story. You can, however, count on a sensual read, hot flashes, sharp humor, unexpected twists, sudden revelations, and one of the best storytellers in her genre…"
An apocalyptic storm has transformed New Orleans into a city of lawless terror—and Mikaela Jones is standing in the center of the nightmare. A beautiful, courageous journalist with a mysterious past, she sees monsters prowling all around her. But the gravest peril of all awaits Mikaela when she is taken captive by a mesmerizing male who is not mortal—a breathtaking creature who arouses the fire in her blood, making her burn for the exquisite erotic ecstasy of total surrender.
For seven centuries Alex Broussard has been waiting for the chance to free himself from the threat of the matriarchal undead society that seeks his destruction. And now, finally, that time is at hand—until the opportunity is ruined by the stunning, innocent, human interloper Alex is compelled to rescue from certain doom. Now they are joined, for good or ill, as they give in to the burning need that neither can resist—risking everything to experience the ultimate sensual release as the darkness rises all around them.
Book 4:Darkness Captured
In Darkness Captured, the extraordinary Delilah Devlin combines two blistering hot genres—women's erotic fiction and paranormal romance—and the result is a masterwork of vampire erotica that's almost too torrid to handle! The decidedly adult adventure of a passionate werewolf who's willing to storm the gates of hell to rescue a princess from the clutches of a demon, Devlin's Darkness Captured is dark, sexy, and absolutely sizzling. Shapeshifter love has never been hotter!
Headstrong and proud—a royal creature of sinuous grace, all primal instinct and lethal beauty—the shapeshifter Gabriella has agreed to serve as emissary to the vampires who rule in the shadows of the New Orleans night. But she cannot resist the pull of the demon she glimpses on the other side of a mirror, and she is drawn to him hungrily, through a magical portal into the Land of the Dead. Now an eternal nightmare awaits Gabriella at the hands of a mesmerizing dark lord who satisfies her every erotic need…while slowly devouring her soul.
The powerful warrior wolf Guntram Brandt is responsible for the safety of the vanished princess he swore allegiance to years before. Yet it is more than a soldier's loyalty that pulls Guntram down into the depths of nightmare—for Gabriella ignites within him a burning animal passion that must be satisfied.
But when offered an escape, will she follow her rescuer to safety—torn between her lustful obsession with the dark lord who has enslaved her and her fierce sensual attraction to the only wolf who could ever master her?
so there you have it..."My Wish List"
and just so everyone knows,,,that if you by chance on your wish list that I have and you have one that Im wishing for,,,I would not mind a swap,,,
*all information was taken from authors website
click
here for more about Delilah Devlin