Pages
Favorite Quote
When I was a little girl I didn't want to be a princess I wanted to be a vampire
~Angelina Jolie~

About Me

Saturday, June 11, 2011
Edit Post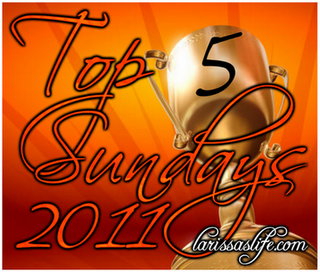 Rules:
Write a post listing your TOP 5 choices within the theme I chose (or was chosen on a poll) for the week.
Mention this Blog on the post and link back to it.
Fell free to use the Feature's image (there is a smaller size version of it bellow)
After you've finished your post, add you link (of the post, not your blog's main page) to the Mr.Linky at the end of that week's post.
If you don't have a blog to post, just leave your list in the comments =)
This weeks theme:
Books for an UF 1st Timer!
Wow..I have read so many that it would be hard cause I would want to recommend all of them,,,cause every one has been awsome and I keep finding more every day,,so lets see...Im gonna have to think about this one for a while....hmmmm? ok Ive got it...The 1st 5 books in my upmost favorite series,,,that I catagorize as Urban Fantasy,,,
5. CHeyenne McCray
"The Magic Series"
D'Anu witch Silver Ashcroft knows she walks a perilous line by practicing gray magic. But it's the only way to protect herself from the evil that surrounds her. After the horrors she has witnessed, Silver thinks she is ready for anything...until the most intensely arousing being she has ever encountered swiftly—and sensuously—proves her wrong...
Hawk is a Tuatha D'Danann warrior—powerful beings descended from the Fae. And for him duty has always come before pleasure. Then, clad only in moonlight, Silver Ashcroft welcomes him to her city of San Francisco and makes his blood sing with a passion beyond compare. She is the embodiment of fantasies he never knew he had, but the terrifying reality of his mission lurks in every shadow...
Only the strongest will survive the upcoming battle, and the forces of darkness are more powerful than ever. Now, warrior and witch must trust in their hearts above all else—for to claim victory, they first must claim each other...
1. Forbidden Magic
2. Seduced by Magic
3. Wicked Magic
4. Shadow Magic
5. Dark Magic
4.Cassandra Clare
"The Mortal Instrument Series"
When fifteen-year-old Clary Fray heads out to the Pandemonium Club in New York City, she hardly expects to witness a murder - much less a murder committed by three teenagers covered with strange tattoos and brandishing bizarre weapons. Then the body disappears into thin air. It's hard to call the police when the murderers are invisible to everyone else and when there is nothing - not even a smear of blood - to show that a boy has died. Or was he a boy?

This is Clary's first meeting with the Shadowhunters, warriors dedicated to ridding the earth of demons. It's also her first encounter with Jace, a Shadowhunter who looks a little like an angel and acts a lot like a jerk. Within twenty-four hours Clary is pulled into Jace's world with a vengeance, when her mother disappears and Clary herself is attacked by a demon. But why would demons be interested in ordinary mundanes like Clary and her mother? And how did Clary suddenly get the Sight? The Shadowhunters would like to know....

Exotic and gritty, exhilarating and utterly gripping, Cassandra Clare's ferociously entertaining fantasy takes readers on a wild ride that they will never want to end.

(
1. City of Bones
2. City of Ashes
3. City of Glass
4. City of Fallen Angels
(there are 2 more in the series to be released in upcoming year and year after next)
3.Richelle Mead
"Vampire Academy Series"
St. Vladimir's Academy isn't just any boarding school; it's a hidden place where vampires are educated in the ways of magic and half-human teens train to protect them. Rose Hathaway is a Dhampir, a bodyguard for her best friend Lissa, a Moroi Vampire Princess. They've been on the run, but now they're being dragged back to St. Vladimir's; the very place where they're most in danger...

Rose and Lissa become enmeshed in forbidden romance, the Academy's ruthless social scene, and unspeakable nighttime rituals. But they must be careful lest the Strigoi; the world's fiercest and most dangerous vampires make Lissa one of them forever.
1. Vampire Academy
2. Frostbite
3. Shadow Kiss
4. Blood Promise
5. Spirit Bound
6. Last Sacrefice
2. Jeaniene Frost
"The Night Huntress Series"
Half-vampire Catherine Crawfield is going after the undead with a vengeance, hoping that one of these deadbeats is her father—the one responsible for ruining her mother's life. Then she's captured by Bones, a vampire bounty hunter, and is forced into an unholy partnership.
In exchange for finding her father, Cat agrees to train with the sexy night stalker until her battle reflexes are as sharp as his fangs. She's amazed she doesn't end up as his dinner—are there actually
good
vampires? Pretty soon Bones will have her convinced that being half-dead doesn't have to be all bad. But before she can enjoy her newfound status as kick-ass demon hunter, Cat and Bones are pursued by a group of killers. Now Cat will have to choose a side . . . and Bones is turning out to be as tempting as any man with a heartbeat.
1. Halfway to the Grave
2. One Foot in the Grave
3. At Grave's End
4. Destined for an Early Grave
5. This Side of the Grave
6. (One Grave at a Time TBR August/2011)
AND FOR MY #1 FAVORITE URBAN FANTASY SERIES OF ALL TIMES..(drum rolllllllllllllllllllllllll)
1. Karen Marie Moning
"The Fever Series"
MacKayla Lane's life is good. She has great friends, a decent job, and a car that breaks down only every other week or so. In other words, she's your perfectly ordinary twenty-first-century woman.

Or so she thinks…until something extraordinary happens.

When her sister is murdered, leaving a single clue to her death–a cryptic message on Mac's cell phone–Mac journeys to Ireland in search of answers. The quest to find her sister's killer draws her into a shadowy realm where nothing is as it seems, where good and evil wear the same treacherously seductive mask. She is soon faced with an even greater challenge: staying alive long enough to learn how to handle a power she had no idea she possessed–a gift that allows her to see beyond the world of man, into the dangerous realm of the Fae….

As Mac delves deeper into the mystery of her sister's death, her every move is shadowed by the dark, mysterious Jericho, a man with no past and only mockery for a future. As she begins to close in on the truth, the ruthless Vlane–an alpha Fae who makes sex an addiction for human women–closes in on her. And as the boundary between worlds begins to crumble, Mac's true mission becomes clear: find the elusive Sinsar Dubh before someone else claims the all-powerful Dark Book–because whoever gets to it first holds nothing less than complete control of the very fabric of both worlds in their hands….
1. Darkfever
2. Bloodfever
3. Faefever
4. Dreamfever
5. Shadowfever
all info above was taken from Goodreads.com
************************************************************************
,,,,,And there you have it if you have ever wanted to dive into the paranormal, urban fantasy world I believe these 5 books will get you started...
..You can jump into a world of witchcraft *swoon* over hunky fae creatures, and join a cause of a Gray Witch Coven to fight a powerful possessed Warlock and his goones...
,,,,or Join Clary in her adventures as she finds out a world that she never knew existetd with her best friend Simon and an arrogant but gorgeous Shadowhunter Jace,,,or you have Rose wonderful beautiful Rose going thru the Vampire Academy training to be the best guardian she can be for best friend Lissa and being trained by Dimitri, that I happen to know for a fact will have you melting,,,but if you are looking for some real excittement and strong passion,,,that never ever ends,,,Join Cat, as she battles her way thru evil creatures and you wont believe her love interest,,,*swoon * Bones,,,and then of coarse,,,Mac Lane aka Macayla Lane go to Ireland with her and learn about the world of the fae,,and not have 1 but 2 hunky guys,,the seductive make you com in his presense,,V'Lane and the Gorgeous, beautiful creature that has just enough edgyness to him to make your blood boil Jericho Barrons...