Pages
Favorite Quote
When I was a little girl I didn't want to be a princess I wanted to be a vampire
~Angelina Jolie~

About Me

Wednesday, June 15, 2011
Edit Post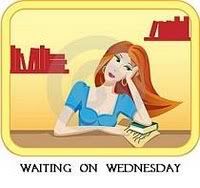 Waiting On" Wednesday is a weekly event, hosted by Jill at
Breaking the Spine
, that spotlights upcoming releases that we're eagerly anticipating.
So,,,the book I have chose because it is well fresh in my mind cause I just actually read the first book in the series,,and Its gonna be a gooooood one,,,OMG!
If yall have read the Demonica Series from Larissa Ione well her Lords of Deliverence Series is nothing more than what you would expect.hot, intense, action packed, and keep you on the edge of your seat full of awsomeness....I just finished Eternal Rider last nite,,and HOlY Shit!!! (excuse the expression)
 so my "WOW" is
Emortal Rider
"Lords of Deliverance" Series #2
by Larissa Ione
to be released December 1, 2011
(and the cover is amazing) (another female main character,,,I beginning to like these 1st Payne, then Sin and now Limos)
The signs are everywhere...disastrous world events. Evil rising up, unleashed upon the innocent. The prophecies were there...but no one listened. Until now. The time has come for those who can either usher in Doomsday...or prevent it. They are here. They ride. The Four Horsemen of the Apocalypse.
Arik Wagner, a soldier with the U.S. Army's paranormal unit, the R-XR, kissed a girl and liked it. And then he went to hell as punishment. Where he's spent weeks being tortured...and plotting revenge.
Limos, Horse
woman
of the Apocalypse, isn't your average girl. She's immortal, dangerous, and her fiancé is Satan himself. In a moment of weakness, she gave in to her desire and kissed Arik, triggering her fiancé's wrath - and his claim on her. In order to save Arik, and the
world
, Limos must make a dangerous pact with her recently turned evil brother, Pestilence. A deal that might just cost her her soul...and her heart. (taken from amazon.com)