Pages
Favorite Quote
When I was a little girl I didn't want to be a princess I wanted to be a vampire
~Angelina Jolie~

About Me

Wednesday, June 29, 2011
Edit Post
Waiting On" Wednesday is a weekly event, hosted by Jill at
Breaking the Spine
, that spotlights upcoming releases that we're eagerly anticipating.
..This week I actually dont have a very long wait,,,Ive seen this books early reviews,,,and Ive been anticipating July 1, for once......so without further delay,,,,I present my WOW.....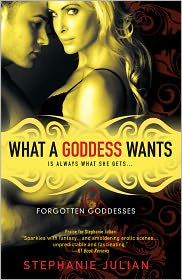 1st in the Forgotten Goddess Series
by Stephanie Julian,,,
,release date July 1, 2011
Book One in the Forgotten Goddess series
IN HIS ARMS, HER MAGIC POWERS ARE ON THE RISE...
Tessa, Etruscan Goddess of the Dawn, is losing her powers and now there's an Underworld god determined to run her down. She needs a hero and fast, because only sexual energy can give her power. So she seeks out Caligo, whose sexual prowess is legendary...
AND SHE'S THE ONLY ONE WHO CAN BRING HIM INTO THE LIGHT...
Caligo is a fabled Cimmerian warrior determined to stay away from spoiled goddesses who trample hearts after they've had their fun. But there's something irresistibly hot and inviting about Tessa and he knows he's her only change to escape the encroaching darkness...
*taken from authors website
here
*
Seeee,,,told ya I wouldn't have to wait very long....hehe,,,I already have it pre-ordered and will available for me Thursday nite at midnite,,,and since here in West Texas we can't pop fireworks or even cook out on a grill,,what better way to spend my 4th of July weekend....
Happy Hump Day!!