Pages
Favorite Quote
When I was a little girl I didn't want to be a princess I wanted to be a vampire
~Angelina Jolie~

About Me

Tuesday, June 7, 2011
Edit Post
New Wednesday event,,that Im gonna be participating in........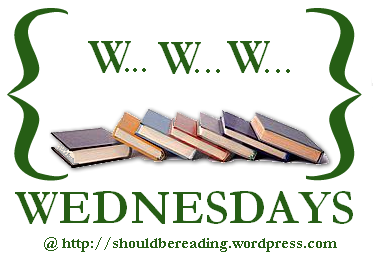 To play along, just answer the following three (3) questions…
• What are you currently reading?
• What did you recently finish reading?
• What do you think you'll read next?
Then leave a comment so your Wx3
1. *What are you currently Reading* Well I acutally just started,,,
This Side of the Grave
by Jeaniene Frost
Night Huntress Series #5
Danger waits on both sides of the grave. . .

Half-vampire Cat Crawfield and her vampire husband Bones have fought for their lives, as well as for their relationship. But just when they've triumphed over the latest battle, Cat's new and unexpected abilities threaten to upset a long-standing balance.

With the mysterious disappearance of vampires, rumors abound that a species war is brewing. A zealot is inciting tensions between the vampires and ghouls, and if these two powerful groups clash, innocent mortals could become collateral damage. Now Cat and Bones are forced to seek help from a dangerous ''ally''--the ghoul queen of New Orleans herself. But the price of her assistance may prove more treacherous than even the threat of a supernatural war--to say nothing of the repercussions Cat never imagined.
2. *What Did you just finish reading* I just finished
"Destined for an Early Grave
by Jeaniene Frost
Night Huntress Series #4
Her deadly dreams leave her in grave danger

Since half-vampire Cat Crawfield and her undead lover Bones met six years ago, they've fought against the rogue undead, battled a vengeful Master vampire, and pledged their devotion with a blood bond. Now it's time for a vacation. But their hopes for a perfect Paris holiday are dashed when Cat awakes one night in terror. She's having visions of a vampire named Gregor who's more powerful than Bones and has ties to her past that even Cat herself didn't know about.

Gregor believes Cat is his and he won't stop until he has her. As the battle begins between the vamp who haunts her nightmares and the one who holds her heart, only Cat can break Gregor's hold over her. She'll need all the power she can summon in order to bring down the baddest bloodsucker she's ever faced . . . even if getting that power will result in an early grave.
*note from the blogger me* I have to say that I love this series I have no problem connecting with characters Bones is absolutely amazing and Cat well,,she's great too,,hehe,,I have to say that #4 was very hard for me I had alot of emotions swimming and it was almost to the point of devestation that is how much I am in deep with this series.....
3. *What do you think you'll read next?*....I will be starting.....
Eternal Rider
by Larissa Ione
"Lords of Deliverence Series" #1
They are here.
They ride.
The Four Horsemen of the Apocalypse.

His name is Ares, and the fate of mankind rests on his powerful shoulders. If he falls to the forces of evil, the world falls too. As one of the Four Horsemen of the Apocalypse, he is far stronger than any mortal, but even he cannot fight his destiny forever. Not when his own brother plots against him.

Yet there is one last hope. Gifted in a way other humans can't-or won't-understand, Cara Thornhart is the key to both this Horseman's safety and his doom. But involving Cara will prove treacherous, even beyond the maddening, dangerous desire that seizes them the moment they meet. For staving off eternal darkness could have a staggering cost: Cara's life.
*note from blogger me* Larissa Ione's Demonica Series made my top 10 favorite Series,,she is very intense in her riding,,and I am always very fond of books that I can feel deep in my gut or leaves lumps in my throat and the Demonica Series did just that,,so Im not expecting anything less from this new series,,
*all book descriptions were taken from fantasticfiction.com