Pages
Favorite Quote
When I was a little girl I didn't want to be a princess I wanted to be a vampire
~Angelina Jolie~

About Me

Monday, July 25, 2011
Edit Post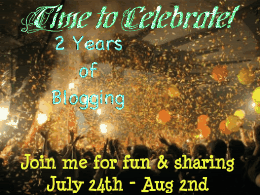 BLOGGING FOR 2 YEARS!!! That is MOMENTOUS!!!
So to celebrate her wicked wonderful accomplishment,,,Melissa over @ My World....in Words and Pages
is having a awesome giveaway,,,
She is giveing away the first 3 books in the fascinating "Jax Series" by Ann Aguirre
*I personally haven't heard of this series so I did go check it out and it sounds,,brilliant!for info and experts you can go check out authors website
here
.*
SO IF YOU WOULD LIKE A CHANCE TO WIN THE START OF THIS SERIES CLICK ON THE CELEBRATE IMAGE ABOVE AND GO ON OVER AND FOLLOW THE STEPS TO ENTER!
I ALREADY DID!