Pages
Favorite Quote
When I was a little girl I didn't want to be a princess I wanted to be a vampire
~Angelina Jolie~

About Me

Thursday, July 28, 2011
Edit Post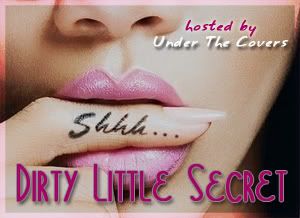 Dirty Little Secret
is a weekly meme hosted by
Under the Covers
. Every Thursday we get to know other bloggers and our readers more intimately by asking them a question hoping to reveal their dirty little secrets. We hope that you will all join us!


To participate in the meme all you need to do is:

1. Be a follower of Under the Covers.
2. Create a post in your blog taking the meme image (code above) and copy instructions.
3. Answer the question we propose! This can be done in any way you like, post a video, write a post etc.
4. Then add your link below.
This weeks question
"
The cougar is in town...Which YA hero makes you wish they were legal?
"
UGH! I would have to go with Jace Wayland from the Mortal Instruments Series by Canssandra Clare or Damon from the Immortals Series by Alyson Noel,,,(coarse technically Damon has been around for centuries so I guess he would be legal) Jace Wayland it is....!!!!!